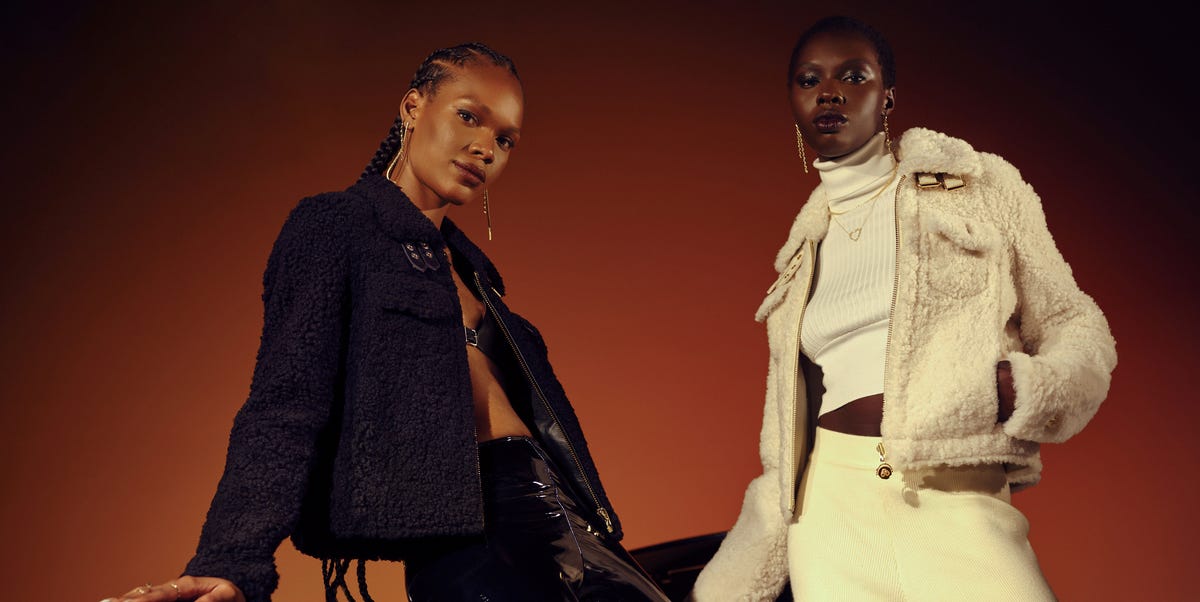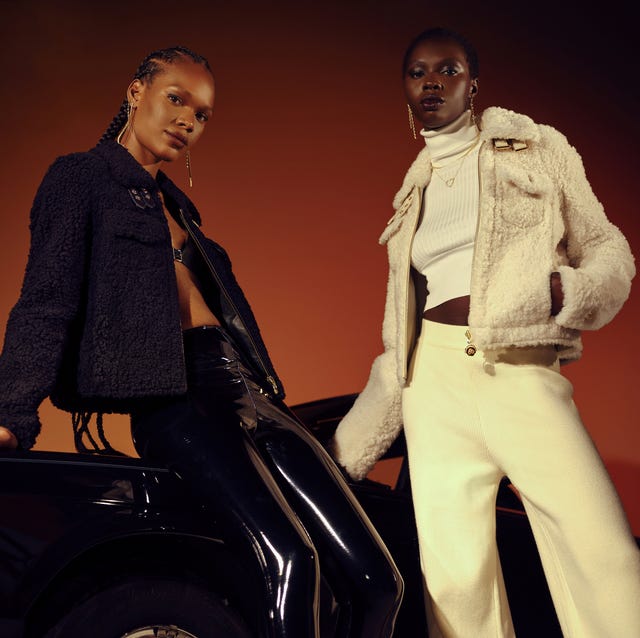 Courtesy of Moose Knuckles
As we head further into fall and inch closer to winter, our wardrobes are getting bulkier and, yes, cozier. Fortunately, this month is rife with fantastic fashion news, curated below for your reading (and shopping) pleasure. Keep scrolling for this month's hottest drops, launches, and collaborations.
1 Moose Knuckles and Jennifer Meyer Release Outerwear Collection
Who: Moose Knuckles and Jennifer Meyer
What: Holiday 2021 outerwear collection
Where: Online at mooseknucklescanada.com, in Moose Knuckle stores, and at select retailers including Neiman Marcus and Holt Renfrew
Why: An outerwear collection combining the Canadian craftsmanship of Moose Knuckles with Jennifer Meyer's eponymous fine jewelry brand has launched new styles to protect you from the cold with a polished vibe. The range consists of 18 pieces that breathe life into the dead of winter with a chic modern flourish. And in the true spirit of giving, a portion of the profits from the collab will be donated to Baby2Baby, providing necessities for children living in poverty in the Los Angeles area.
2 Cecilie Bahnsen Debuts The Chacoli Bag
Who: Cecilie Bahnsen
What: The Chacoli bag from the 10th Encore Collection, created in partnership with Mackintosh and Chacoli
Where: Exclusively online at ceciliebahnsen.com and in-store at Dover Street Market London and Dover Street Market Ginza
Why: For its 10th Encore Collection, Cecilie Bahnsen presents the Chacoli as its first-ever handbag. To make the new design, the Danish womenswear label paired upcycled fabric from British outerwear brand Mackintosh in collaboration with the Japanese brand Chacoli. Bahnsen created a tote bag of seemingly simple proportions, but perfected the structure with a strong yet feminine form. The bags are available in black, yellow, white, grey, and blue, in shapes made for regular use. For the uninitiated, Chacoli's origin story begins in 2011 with a bookstore owner who needed a way to transport fragile and antique books, and since then, the brand has expanded its collections to provide bags for a range of lifestyles. The functional aspect of the new collection is complimented by Bahnsen's thoughtfully crafted pieces. The campaign, captured by Japanese artist Fumiko Imano, an old friend of Bahnsen's, is a testament to the power of creative collaboration.
3 Elizabeth Sulcer and Ilene Joy Launch Jewelry Capsule Collection
Who: Elizabeth Sulcer and Ilene Joy
What: Fine jewelry capsule collection
Where: Online at ilenejoy.com, brokenenglishjewelry.com, threadsstyling.com and at pop-ups at Art Basel Miami, Violet Grey, and more events TBA
Why: Ilene Joy, the fine jewelry brand led by mother-daughter duo Ilene Joy and Rae Scheer, is collaborating with cult favorite celebrity stylist Elizabeth Sulcer on a new 16-piece limited-edition capsule collection that celebrates their shared aesthetic of cool-girl glamour. The collection's pièce de resistance is a first-of-its-kind dual gemstone embedded flip ring in green tourmaline, white sapphire, and aquamarine, allowing the wearer to participate in the concept of duality that the designers had in mind when creating the collection. The jeweled earrings and signet rings can be styled alone or together, and are designed to be worn for occasions of any kind. The campaign stars Sulcer herself, wearing mixed layered looks from the collection and embodying the It girl energy of the '70s. The Ilene Joy and Elizabeth Sulcer collab will launch at the Curio at Faena Bazaar during Art Basel Miami and will continue via a series of bi-coastal pop-ups. A portion of all sales from Ilene Joy will be donated to The American Cancer Association and Animal Haven.
4 Thom Browne Returns with Annual Football Capsule Collection
Who: Thom Browne
What: 2021 football capsule collection
Where: Available online at thombrowne.com, in Thom Browne stores, and at select retailers
Why: Thom Browne has introduced three new designs to its annual capsule collection inspired by the good ol' tradition of Thanksgiving football. The stunning campaign, lensed by Andrew Jacobs, was shot in a football stadium (naturally). The latest seasonal offering builds upon the brand's signature tricolor striped classics with three new silhouettes: an athletic 4-bar mesh practice jersey, a 4-bar down fill overcoat, and a 4-bar down fill muff, all of which offer a playful take on uniform dressing. Nothing like a little friendly competition over the holidays!
5 Bulgari and Save the Children Open "Wish in a Bottle" Art Installation
Who: Bulgari, Save the Children, and Young Audiences of Houston
What: "Wish in a Bottle" art installation
Where: Children's Museum Houston
Why: To celebrate World Children's Day, Bulgari, Save the Children, and Young Audiences of Houston have unveiled an eight-by-six-foot art installation created by 600 local elementary school children at Children's Museum Houston. The artwork features the young artists' hopes for the future of the world, encapsulated in bottles and displayed in a colorful array as part of an Arte di Bulgari program activity. After partnering in 2009, Bulgari and Save the Children have offered countless opportunities for children to express their creativity in a wide range of artistic disciplines. Realizing how many children aren't afforded the opportunity to have creative outlets, the exhibit's debut brings attention to the right of every child to dream big. Sales from Bulgari's iconic Save the Children jewelry collection have funded scores of underserved students by empowering them with the resources for self-expression. The unveiling included representatives from the supporting organizations as well as the children who were able to see their own contributions come to fruition in the Arte di Bulgari installation. "We look forward to sharing the art installation with the community and hope children hold onto and remember those wishes and they continue to grow, learn, and thrive," said Mary Curry Mettenbrink, executive director of Young Audiences of Houston, who helped bring in local artists to guide the program's participants.
6 K.NGSLEY Launches Inaugural Expansive Collection, C1A1
Who: K.NGSLEY
What: C1A1 collection
Where: Available online at k.ngsley.com and at select retailers
Why: At the helm of K.NGSLEY is first-generation Nigerian-American creative and activist Kingsley Gbadegesin. K.NGSLEY first gained attention when the label released its tanks as part of Collection 0: BQ Essentials, which went viral and were donned by the likes of Lil Nas X, Bretman Rock, Issa Rae, and Zaya Wade, among others. Gbadegesin directly supports oppressed communities by reclaiming and redefining the Black, queer, and femme body with approachable luxury. With C1A1 comes the label's first foray into footwear, including a combat boot made to be a staple for K.NGSLEY fans. Another highlight is its 701 jewelry line, which dropped this past summer. The PrEP blue enamel pieces dipped in gold were an instant hit, and called attention to the disproportionate HIV and AIDS infection rates within the Black community. The ideas woven into the ready-to-wear collection translate Gbadegesin's dialogue to the world.
7 Awake NY Collaborates With Crocs
Who: Awake NY
What: Collaboration with Crocs
Where: Available online at awakenyclothing.com, projectgreenhouse.com, and at Foot Locker stores
Why: In celebration of the unique culture and vibrant energy of New York, lifestyle brand Awake NY has partnered with Crocs to bring us sensible footwear designed with the sentiment of "home is where the heart is" in mind. Awake NY's founder and creator Angelo Baque focused on the significance of family and community to create Crocs with a cute heart motif, as an homage to the city he visited every summer as a child. His grandmother's home in Washington Heights became a significant part of the designer's spiritual education during his formative years. It was within this community that he learned the meaning of family and, as of late, how that meaning has evolved. "Whether we were physically with family or connecting electronically with chosen family, it's the people we love that have helped us through this uncertain time," Baque says. The collection consists of the classic clog in two distinct colorways, available in adult and child sizes, and a series of NY-themed jibbitz for an added layer of personality.
8 Maison Margiela Releases Icons Collection
Who: Maison Margiela
What: Icons collection
Where: Available online and at Margiela store pop-ups in Paris (pictured here), London, Tokyo, and Shanghai
Why: Maison Margiela's house codes are many, and the discerning fashion fanatic can spot any instantly. One code known as decortiqué—distilling a garment down to its core—can be see on the collars, cuffs, and lapels of its newest Icons Collection. This seasonless offering whittles the Margiela codes built over the last 30 decades down into core wardrobe pieces that define the brand ethos. Building on the Margiela style pyramidical method of creativity, the Icons collection elaborates on Lines 4 and 14 and features iconic staples including denim, fisherman knitwear, sharp-as-a-knife pinstripe suiting, red threading details, and, of course, trench coats. Galliano has emphasized the idea of "hastily" dressing throughout his tenure at the Maison, a garment still in motion, unfinished yet perfect in its incompleteness, seen here on coat shoulders with top-stitching still intact. He introduced the idea of "inverted snobbery"—swapping humble and fine fabrics for one another—and this comes to life in bias cut silk suits and "shadow play" trench coat pockets. The pieces are muted in color and take on a vintage feeling while still remaining pertinent to modern dressing. The collection wouldn't be complete without split-toe Tabi boots, which come in recycled rubber and leather, along with 5AC and Glam Slam handbags which are reissued in their original colors and textiles. To celebrate, Margiela has released a short film directed by Olivier Dahan that honors the juxtaposition that the collection celebrates: the impermanence of life detailed through instantly recognizable silhouettes and symbols that make Margiela the iconic house it is.
9 Kanuk Opens First U.S. Store in New York City
Who: Kanuk
What: First U.S. store opening
Where: Opening Tuesday, Nov. 23 at 75 Greene Street
Why: Kanuk, the Canadian outerwear brand known for creating some of the most functional and fashionable cold weather gear north of the border., prides itself on being sustainable by design. In addition to stepping away from fur completely by 2022, Kanuk also seeks to increase the percentage of recycled fabrics used in their product (50 percent at the moment). The brand is setting its sights beyond Quebec with its first-ever U.S. store in NYC's Soho neighborhood. With this international expansion, Kanuk delivers Canadian craftsmanship stateside. The shopping space on Greene Street was designed by Atelier Barda, created to evoke a wintry night in Montreal, full of light and nostalgia for the '60s and '70s when Montreal transformed into the cultural hub it is today. The first collection to hit the store will be the FW21 Core Collection, along with other exclusive pieces. From neon parkas to puffers in floral prints to transitional coats and jackets, Kanuk offers outerwear solutions for the coldest of winter nights to the mildest of fall days. The store is slated to open on Nov. 23, just in time for holiday shopping and biting city temperatures.
10 Brian Atwood Collaborates with Scarosso on Shoe Line
Who: Scarosso
What: Collaboration with Brian Atwood
Where: Online at scarosso.com
Why: Italian shoe manufacturer Scarosso tapped American footwear design Brian Atwood for a joyous celebration of all that is sexy and flashy. This meeting of the minds marks the brand's first-ever foray into high-heeled footwear, and who better than Atwood to take on that challenge? Atwood's empowering and sensual footwear designs were a perfect match for the craftsmanship of Scarosso's ateliers, focusing on clean lines with pops of color that provide a much-needed dash of rainbow saturation to any outfit. The end result is a line of pumps, slingback, ankle, and knee-high boots that speak to the sensuality of Italian disco, nightclubs, and stepping out on the town.
11 Lack of Color Launches in the U.S.
Who: Lack of Color
What: U.S. launch
Where: Online at lackofcolor.com
Why: Lack of Color is an Australian hat brand founded by couple Tess Corvaia and Robert Tilbury with the intention of creating high quality, sustainably made headwear that will face the tests of seasonality and durability with ease. Each hat is made somewhere different internationally, based on materials and the artisans required to create them. Now, for the first time, Lack of Color will be available to U.S. customers, who can enjoy next-day shipping on hats, starting with the adorable SS22 collection (pictured here).
12 Repossi Honors NYC with Berbere Chromatic Ring
Who: Repossi
What: New York City Chromatic Berbere ring
Where: Available exclusively at Saks
Why: Repossi celebrates the 10-year anniversary of their Berbere ring, which takes its name from the Tuareg Berber tribe style of tattoos. The ring was designed to fit as a second skin, with its minimalism and sleek row of floating diamonds. In honor of a decade in existence, Repossi is reissuing Chromatic Berbere rings to honor cities around the world that have inspired the jewelry Maison with a special color. This electric blue is for New York, perfectly capturing the bright and bold streets of the city, available at Saks Fifth Avenue. Stay tuned throughout the year for more drops of Chromatic rings to honor Repossi's international reach.
13 Tiffany & Co. Opens Dreamy West Village Holiday Pop-Up
Who: Tiffany & Co.
What: Pop-up store
Where: 301 West 4th Street in New York City
Why: Tiffany & Co., known for its iconic 5th Avenue and 57th Street outpost, heads downtown to celebrate the magical charm of the West Village with a celestial pop-up. Dreamed up by jewelry designer Jean Schlumberger, the jewel box of a shop on the corner of West 4th and Bank Streets is filled with salons featuring various Tiffany collections, including Tiffany Knot and Tiffany & Co. Schlumberger. Moons, stars, and clouds cover the walls and ceilings and transport visitors into opulent settings created by Schlumberger's colorful and whimsical eye. His iconic Bird on a Rock painting featuring a golden bird further evokes a feeling of being in the clouds. The pop-up will host a series of holiday-inspired activations throughout the season, include hand-painting Tiffany gift boxes and cards, calligraphy, and even tarot card readings. 'Tis the season!
14 Missoni Debuts Supreme Collaboration
Who: Missoni
What: Collaboration with Supreme
Where: Available at Missoni and Supreme stores on Nov. 18
Why: Missoni, the Italian brand best known for its innovative knitwear with unique patterns and a lightweight feel achieved through their decades of wool craftsmanship, is partnering with streetwear magnate Supreme. In Supreme x Missoni, you'll find Missoni's signature embroidered knit pattern in a multitude of colors on a reversible jacket, sweater, polo, hooded sweatshirt, and hat. The collection drops on Nov. 18, and in true Supreme style, don't expect anything to stay in stock very long afterwards.
15 Birkenstock Links Up With Opening Ceremony for Magritte-Inspired Collection
Who: Birkenstock
What: Opening Ceremony x Magritte Foundation collaboration
Where: Available online at birkenstock.com and openingceremony.com and in select retail stores
Why: Although Opening Ceremony no longer exists as a concept store (RIP), the brand still maintains deep roots in the fashion and art industries. Its collaboration with Birkenstock is a perfect example of where OC sits in the cultural conversation. The fashion brand tapped Birkenstock and the Magritte Foundation to create two Birkenstock Boston clogs featuring two Magritte paintings: L'Empire des Lumières [The Empire of Lights] (1954) and Le Faux Miroir [The False Mirror] (1929). Magritte's surrealist and poetic Le Faux Miroir is reborn on the Boston clog with an emphasis on the eye, bringing into question who is the viewer and who is being viewed. The mystifying collaboration is sure to delight any fan of surrealism.
16 Gauge81 Launches Activewear
Who: Gauge81
What: Debut activewear collection
Where: Available online at gauge81.com and at select retailers
Why: Dutch eveningwear label Gauge81 was created and launched by Monika Silva with the intention of creating sleek, sexy, and simple looks that look best at night. Now, the brand is striding into another category: activewear. Created with the same attention to detail and quality, the debut features herringbone knit tops, shorts, leggings, and oversized sweatsuits to put over your matching sets post-workout. The pieces deliver on both quality and sustainability, featuring compression that's tight enough without being constrictive. Plus, 50 percent of the material composition is made using organic or sustainable materials. Functional glamour? We'll take it all.
17 Gucci Unveils Xbox Collaboration
Who: Gucci
What: Xbox collaboration
Where: Available on gucci.com and in select Gucci locations worldwide
Why: Put on your party hats, people. This collaboration is a double anniversary celebration in honor of Xbox's 20th year in business and Gucci's centenary. The Italian house's ability to seamlessly mesh with popular culture under Alessandro Michele's reign translates into a limited-edition boxed gaming set for the chicest gamers only. A custom Xbox Series X console comes laser-engraved with Gucci's GG-pattern, complete with controllers in Gucci's Web stripe, packed in a Gucci Supreme canvas hard case. The bottom of the case is emblazoned with "GOOD GAME," a tongue-in-cheek nod to both Gucci's iconic GG logo and the classic sporting phrase used in gaming. If you're already geeking out, mark your calendar for Nov. 17 when this launch goes live—there are only 100 numbered sets worldwide. Good luck and good gaming.
18 Canada Goose Expands Into Footwear
Who: Canada Goose
What: Footwear
Where: Available now in Canada Goose stores worldwide, online at canadagoose.com, and at select wholesale partners
Why: Canada Goose is taking decades of experience creating some of the finest cold weather and luxury performance outerwear to yet another category: footwear. A first for the brand, it took inspiration from its parka archives to create the Journey Boot (pictured here) and the Snow Mantra Boot. The Snow Mantra is designed to wrap snugly around the foot and maintain warm temperatures in the chilliest of conditions—perfect for après-ski. The Journey Boot has the appeal of a luxury hiking boot that can be worn off the mountain, but of course is more than equipped to be flexible and withstand the rockiest of terrains. Both boots are waterproof, rank on the Thermal Experience Index (TEI)—for the uninitiated, it means they're really, really warm—and made with weather-ready materials such as Primaloft and TerraCare. Between these two offerings, Canada Goose packs a serious punch by introducing boots as functional as they are irresistibly stylish.
19 eBay To Hold Archive Auction for Rare Handbags
Who: eBay
What: Archive auction and vault sale for rare handbags
Where: Live on eBay Monday, Nov. 15 at 3 a.m. EST and ends on Saturday, Nov. 20 at 3 a.m. EST
Why: eBay is capitalizing on its unique bidding process by bringing luxury handbags to the masses with its Archive Auction. This newest handbag drop features some of the rarest and most unique handbags that you may very well never see again after this auction. Think: Louis Vuitton monogram tennis racket covers, electric blue Hermes Kellys, and limited-edition spiky Gucci bags that stormed the runway just a few years ago. Starting at 3 a.m. EST on Nov. 15, start the bidding on these bags, all of which are authenticated through eBay's Authenticity Guarantee, ensuring you're not wasting your best bids on anything fake.
20 Loewe Gets Festive with Holiday Collection
Who: Loewe
What: Holiday collection
Where: Available worldwide in Loewe stores and online starting Nov. 10
Why: If you haven't started thinking about holiday gifts for your loved ones, let Loewe's latest collection be your first gentle reminder. While designing, creative director Jonathan Anderson always takes inspiration from a prominent British artist in the Arts and Crafts movement of the 19th century. This year, C.F.A. Voysey's nature-inspired prints provided the framework for a whimsical and bright selection of leather goods and accessories. Take the elephant crossbody bag, the butterfly-shaped pouch, or the miniature Amazona Nano bag fit for an elf, for example. Supersized Voysey floral prints take new life imposed on luxurious coats and cardigans, which contrast wonderfully with pops of neon and lurex to invoke a holiday spirit fit for only the most festive and well-dressed. The campaign images, shot by Tyler Mitchell, call to mind a childhood nostalgia for intimate holiday gatherings—only this time, swaddled in Loewe.
21 Common Era Releases 'Ad Astra' Collection
Who: Common Era
What: Ad Astra collection
Where: Available online at commonera.com
Why: Common Era is a fine jewelry label founded by Torie Tilley, a self-proclaimed history geek who injects Ancient Greek and Roman stories into her collections. Eighty percent of Common Era's pieces are sustainably made in NYC, and Tilley donates a portion of all proceeds to charities close to her heart. The latest collection, Ad Astra, takes things back to the 1700s, when the jewel alphabet was used (d= diamonds, s= sapphires, etc.) to spell sweet secret messages like "dearest" or "regards." Now, Tilley is using the unique code to spell "Ad Astra," which is Latin for "to the stars," on dainty necklaces, earrings, and bracelets to inspire the wearer to aim high.
22 Step Into the Age of Aquarius With Acne Studios
Who: Acne Studios
What: Acne Paper Issue 16
Where: Available online at acnestudios.com and in Acne Studios stores and select bookstores
Why: Calling all zodiac fanatics and mystic mavens: you're in luck! Acne Studios debuted its 16th edition of Acne Paper, dedicated to all things astrological. A hybrid between a book and a magazine, Acne Paper combines the best in style, image-making, literature, journalism, and culture to create an editorial piece that is at once visually stunning and intellectually challenging. Titled Age of Aquarius, Acne Paper's Issue 16 is an homage to the astrological age in which we are about to enter. One age spans over 2,000 years, marking significant shifts in the developments of our planet. The relaunch issue is also a collector's item and time-capsule of sorts, meant to take stock of the current moment and look to the future. Your creative fantasies are sure to run wild with fashion stories from photographer Justin French, stylist Lotta Volkova, and more. Looking to expand your horizons? Pieces written by academics like anti-racist activist Djamila Ribeiro and counterculture philosopher Daniel Pinchbeck are sure to enlighten. Age of Aquarius features 500 pages and is reimagined with a cover that turns into a poster. Splashed with the enchanting graphics of Egyptian artist Yousef Sabry, this piece will bring positive energy to any space.
23 Mercedes-Benz and Proenza Schouler Join Forces
Who: Mercedes-Benz and Proenza Schouler
What: Capsule collection
Where: Available online at proenzaschouler.com globally, in-store at Saks Fifth Avenue in New York, and at Selfridges in London
Why: Automobiles and fashion have a lot more in common than you might think: both are centered on the convergence of craftsmanship and innovative design, after all. The best of the best from both fields, German car manufacturer Mercedes-Benz and New York-based luxury label Proenza Schouler, are bringing their know-how to a unique capsule collection of ready-to-wear and accessories. Inspired by the endless possibilities of the open road, the lineup of gender neutral styles offers elevated essentials to suit every traveler's needs. An olive green trench coat cut from eco-friendly cotton, for example, is an easy way to up your style game on the go. Layer it over a recycled cashmere turtleneck or a tie-dye T-shirt, both fit for life in the fast lane imbued with Proenza Schouler's signature touch of city-chic. A functional weekend tote and upcycled leather keychains will make perfect gifts for those who rack up frequent flyer miles, while the cozy cashmere blankets that feature marigold, ecru, and blue abstract renditions of Mercedes-Benz's star logo are sure to delight the homebodies in your life. The campaign, aptly named "The Power of Two," stars actress Laura Dern and her son, model and musician, Ellery Harper. Taking in gorgeous coastal views from an all-electric Mercedes-Benz EQS outfitted in pieces from the capsule, the duo capture the spirit of wanderlust we are all craving right now. Rev your engines and prep your shopping lists—this collaboration is sure to sell out fast.
24 Jil Sander and Arc'teryx Team Up for Winter
Who: Jil Sander
What: Collaboration with Arc'teryx
Where: Available online at jilsander.com, arcteryx.com, and ssense.com as well as in Jil Sander and Arc'teryx stores and at select retailers worldwide starting Nov. 10
Why: Who said skiwear had to be boring? Jil Sander, known for its immaculate take on the "less is more" ethos, has joined forces with technical wear experts Arc'teryx for a mountain sports capsule collection. Men's, women's, and unisex offerings including a pair of bib trousers and a one-piece suit defy expectations of winter gear. Of the collab, siblings Lucie and Luke Meier, head designers at Jil Sander, said: "We could never find garments that balanced high performance with high aesthetic quality. Eventually, with Arc'teryx… we had the chance to design them." The chic know-how of Jil Sander's pared-back aesthetic brings new volumes and shapes to the slopes, without sacrificing weather-ready performance, designing with Arc'teryx's iconic 3L Gore-tex Pro fabric that promises to keep you dry and warm. Minimalists and utilitarian fanatics, eat your heart out.
25 Loro Piana Debuts Candle Collection
Who: Loro Piana
What: Scented candles
Where: Available at Loro Piana stores worldwide and on loropiana.com
Why: The easiest way to give your interiors an instant lift? An uber-luxurious scented candle. Loro Piana debuted its first collection of home scents that pay homage to the savoir faire of Italian candlemakers. Requiring three days to craft, they are composed of all-natural materials such as pure essential oils and food-grade dyes. The candles come in three delectable fragrances inspired by Loro Piana's rich textile tradition, taking you on an olfactory journey around the globe. With notes of spice and cedarwood, the Zibeline candle brings Mongolia to mind—the provenance of the brand's iconic cashmere. Jacquard, a fabric sourced in Myanmar, is brought to life through intoxicating florals. Lastly, the packaging of the Bouclé candle resembles a spool of yarn from which the fabric of the same name is woven. Light and fresh, the scent is reminiscent of the rolling green landscapes of New Zealand. In keeping with the company's commitment to sustainability, these candles have a renewable shelf life that far exceeds their 110 hours of maximum burn time. Once the last traces of wax vanishes, the fabrics and yarns from which the candles were made will remain, allowing them to be used as chic tableware.
26 Wardrobe.NYC Launches RELEASE 07 UTILITY
Who: Wardrobe.NYC
What: RELEASE 07 UTILITY collection
Where: Available online at wardrobe.nyc
Why: Wardrobe.NYC founders Josh Goot and Christine Centenera launched their business in 2017 with the idea that the perfectly composed wardrobe does, in fact, exist. By melding streetwear's affinity for hyped-up "drops" with an emphasis on exquisite tailoring typically relegated to high-fashion, Wardrobe.NYC carved out its own niche space in the market. Now, the cult label debuts RELEASE 07 UTILITY, a no-frills mini collection led by a raincoat and a parka. Rendered in water-repellent fabrics that offer breathability and mobility even in harsh climates, the two outerwear options from the release are key investments for the season ahead. Waist-cinching drawstrings and an elevated color palette of seafoam and black ensures they go beyond objects of mere utility, becoming assets to the ensemble underneath. In the campaign lensed by Jackie Nickerson and styled by Centenera herself, curve-hugging bodysuits, slim cotton pencil skirts, and stirrup leggings let the voluminous proportions of both jacket styles take center stage. RELEASE 07 UTILITY is available in either four or eight-piece packs to take the hassle out of your morning routine, rain or shine.
27 Frame Introduces Biodegradable Denim
Who: Frame
What: (Bio) Degradable denim collection
Where: Available online at frame-store.com
Why: Denim may be America's signature fabric, but Frame is spinning it from all green materials. Taking the next step toward its sustainable production goals, the Los Angeles-based apparel brand partnered with Candiani, a Milanese denim producer, to innovate three biodegradable styles: Rigid 727, Comfort Stretch 785, and Super Stretch 778. The first is crafted from 100 percent biodegradable cotton, while the latter two are made with ROICA V550 yarn that takes less time to break down than its conventional counterpart, and does not leave behind the same harmful substances. In an effort to cut down on harsh dyes and conserve water, each pair in the collection complies with Frame's pillars of responsible washing. The jeans make use of digital-interfacing technology as well. Scannable QR codes provide customers with environmental impact reports, reducing Frame's overall carbon footprint and emphasizing transparency. An ad campaign fronted by model Natasha Polly will run alongside unique store installations by British creative studio Isabel + Helen. Although they are biodegradable, these jeans are so chic you'll want to keep them for the long haul.
28 Zara Releases SRPLS Fall 2021 Collection
Who: Zara
What: SRPLS fall 2021 collection
Where: Available online at zara.com
Why: Calling all soldiers of style: Zara dropped the fall 2021 installment of its biannual SRPLS collection, just in time to help you navigate the conundrums of cold-weather dressing. Fusing rugged military influences with a city-slicker attitude, SRPLS offers updated iterations of closet staples: from a sharp-shouldered officer's coat to a satin-effect trench that does double duty as a dress. Although this season's lineup is rendered entirely in camouflage-inspired mossy green and khaki hues, the striking proportions and playful mix of textures ensure you will not blend in. For daytime, fend off winter's chill with patchwork leather pants and a faux-shearling aviator jacket. When dusk strikes, you'll want to suit up in a silken halter-neck parachute dress and stomp around in slouchy leather boots with chain-link accents. No matter what piece(s) you choose, Zara's stock of SRPLS is will undoubtedly help you conquer your day.
Kevin LeBlanc Kevin LeBlanc is the Fashion Associate at ELLE Magazine.
This content is created and maintained by a third party, and imported onto this page to help users provide their email addresses. You may be able to find more information about this and similar content at piano.io